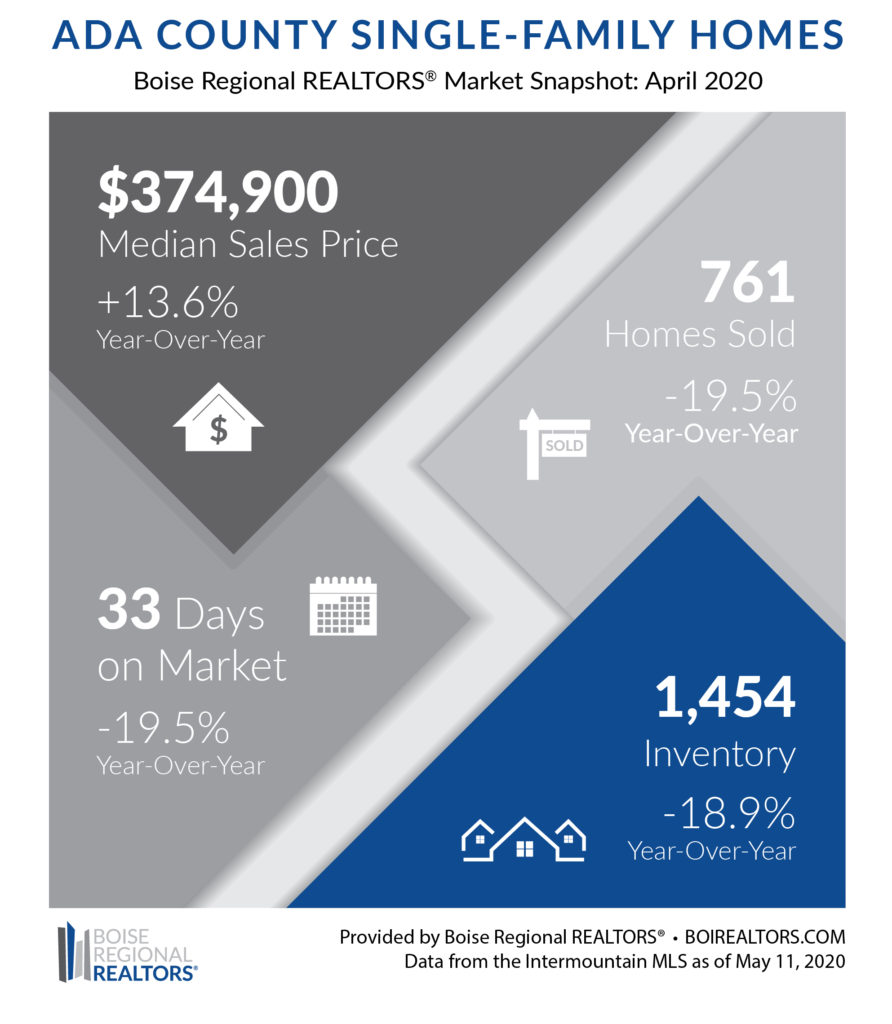 Ada County Home Sales Predictably Slower Amid COVID-19
There were 761 home sales in April 2020, down by 19.5% compared to the same month last year. This dip in sales was expected as REALTORS® and consumers heeded Idaho's stay-home order for any non-essential transactions.
Keeping real estate essential during this time ensured that transactions in progress were able to close, avoiding potential financial hardships for many families. And we've heard from many of our REALTOR® members that clients who didn't have to buy or sell immediately were able to "press pause" for a bit, limiting unnecessary in-person interactions as the order had intended.
We expect sales to rebound over the coming months as the state moves through its phased re-opening plan and people restart the home search or sales process.
Despite April's dip in sales, the overall median sales price in Ada County reached a new record of $374,900, up 13.6% year-over-year and up 2.2% from March 2020.
As we've been reporting, when the share of sales that are new construction increases, the overall median sales price rises, as well. In April, 35.0% of closed sales were for new homes and the segment had a median sales price of $416,287, compared to $345,000 for existing/resale.
With the overall months' supply of inventory sitting at just 1.7 months, we do not expect any downward pressure on home prices, as home buyer demand continues to outpace supply. A balanced market is between 4-6 months of supply.
While the association reports on county-wide real estate trends, we recognize that there are real people behind each one of these transactions — people with unique situations and personal reasons for buying or selling. No matter what your circumstance, trust a REALTOR® to provide you with personalized service and expert, local knowledge, especially during this time.
Click here to view full report
Author
System