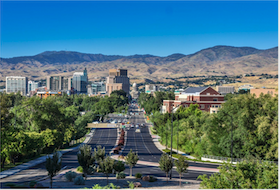 CoStar News January 4, 2021 | 6:51 P.M.
Idaho turned out to be the state drawing the most people to move there in 2020 for the second year in a row, while New Jersey saw the most leave for the third consecutive year, at least among those using moving trucks from United Van Lines.
The St. Louis-based moving company's 44th annual migration study found that the state known mostly for its potatoes had the highest-inbound migration among states with 250 or more families moving in and out. Idaho's ratio of move-ins and move-outs included 70% moving into the state, while New Jersey had the same moving out.
Western and Southern states dominated the study's top 10. South Carolina followed Idaho for move-ins. Tennessee, Alabama and Arkansas were new to the inbound list for 2020.
Michael Stoll, economist and professor at the University of California, Los Angeles, said in a statement that 2020 data shows the pattern of people moving to Western and Southern states that has been happening for several years.
But the coronavirus pandemic has "without a doubt accelerated broader moving trends, including retirement driving top inbound regions as the Baby Boomer generation continues to reach that next phase of life," Stoll said.
United Van Lines' study found that New York City, Newark in New Jersey and Chicago had the most outbound migration, while smaller cities such as Wilmington in North Carolina and the Idaho capital of Boise had the most inbound moves.
Idaho finished behind Wyoming for people moving to make a lifestyle change, and it placed first among those who said cost of living was the reason for moving. Delaware topped the retirees list, followed by Florida, South Carolina, Arizona and Wyoming.
Author
System