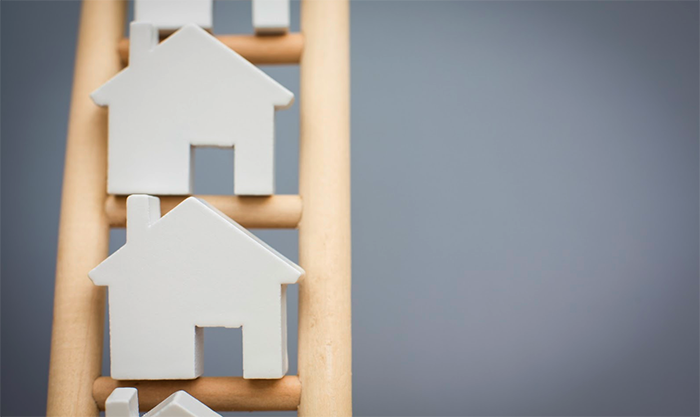 In 2010 I had an epiphany. That lightbulb moment led to us adding more than 4,000 new construction doors to our property management company in one market over the next eight years. As many of you can attest, 2010 was a rather dismal year in the overall economy as well as the housing market. And since there were so few interested buyers, even fewer of which could get financing from the shell-shocked banks, that meant sellers couldn't sell. Property managers were picking up single family rentals like crazy. It was low hanging fruit, but it wasn't coming from traditional investors. These were reluctant landlords who were willing to rent because they were unable to sell. When I paid $50,000 for a house that cost $225,000 to build, I had two thoughts: (1) This. Is. Awesome. and (2) this isn't going to last. The market would come back and all these reluctant landlords would sell and we were going to lose our inventory. We needed to pivot. So we did.
We needed to stop looking at where the market was currently, and focus on where it was going next. While we still brought on the short term reluctant landlords, we looked to the future. Knowing the demand would come back with the market and that very little new supply was being added we saw our opportunity. We went vertical.
If that seems overly simplistic, consider the demographics and economics at play. According to the National Multifamily Housing Council, we are over 3.5 million doors underbuilt nationally. The demand for multifamily and single family housing is the strongest it's been in decades. We owe this demand to population growth (over 5 million between 2014 and 2017 alone), changes in household formation, and a larger percentage of those households renting (increasing from 31.2% of households in 2006 to 36.6% in 2016). Not only is demand for new housing strong, it is expected to continue to grow as more and more millennials form new households as renters. Estimates call for an average of 328,000 new multifamily doors per year just to keep up with the current demand.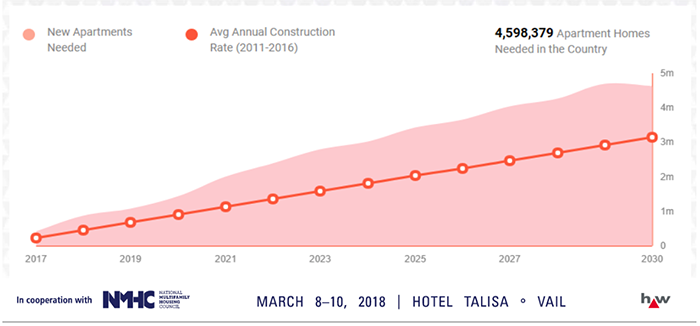 With the future demographics suggesting pent up demand and undersupply, the market will need to build new housing units to meet that demand. And that's exactly what we did. How exactly? It's a fair question with a surprisingly simple answer: we provided value. Throughout the downturn there was tons of cash on the sidelines. Savvy investors were looking for the right opportunity, but often lacked the industry expertise, connections, or roadmap to execute in order to put the right projects together.
It just so happens we checked each of those boxes. We saw our moment and executed our game plan successfully. Then we did it again. And again. And again. Until we had made a lot of investors a lot of money.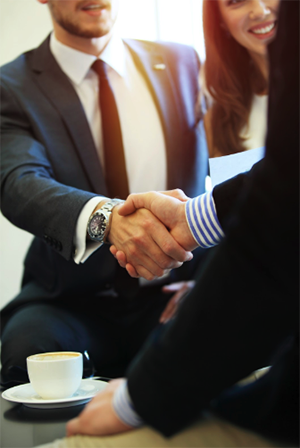 We did this by assembling the right deal team. Each deal had different needs so each deal had different players involved, but they each had a similar mix of the right strategic partners: Builder, Property Manager, and Investor.
Builder
Choosing the right builder is profoundly important. Your builder can help provide input on property location, maximizing units on the parcel, costs per door, and hidden costs and risks that may not have occurred to you. Their local market expertise and connections with licensed trades and other subcontractors will not only drive down building costs, they'll ensure you build the right product with the right materials both for now and ten years down the road when more maintenance costs can be expected.
At HomeRiver Group, we've partnered with several different builders on various projects. We cultivate these relationships because we know how vital a role the builder plays in this process. A good property manager will be able to recommend which builders to talk to, as well as potential builders to avoid. Remember, builders want to build, so many may dabble in multifamily investment property. But this is your investment, you don't want someone who can build you a multifamily project, you want a specialist--someone who was put on this earth to build you a multifamily project. These are the guys who have walked this path countless times and navigated the pitfalls so they can help you avoid them as well. That expertise and experience is invaluable. Make sure you find one of these builders to partner with on your deal team.
Your builder and property manager will have valuable input on your desired build site. A good builder will tell you that your ideal property is one that is unique and/or "irreplaceable" (on a river, with a view, near a university, etc.) in an area that is not already oversaturated. Proximity to amenities (shopping centers, hospitals, schools, etc.), transportation (bus routes, freeway access, etc.) and employers will all be key factors to consider as they will impact the investment performance.
The right builder and property manager will be vital to the project design and floor plan. Working with their architect, they can recommend design features and unit counts, educate you on current market tastes and preferences, and make quality recommendations that will impact future maintenance costs. The right builder will also be aware of the local zoning and permitting guidelines, processes and timelines.
Property Manager
As the investor you have an obvious stewardship to put your capital to good use and maximize your return while minimizing your risk. You simply cannot achieve this with a cut rate property management company. Similar to finding an experience builder who specializes in these types of projects, you need to work with an experienced property management company who can help you assemble your deal team, locate the right property, and analyze the demographics, financial information, and recommend the right product mix to maximize your investment return.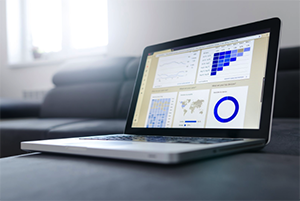 We provide each of our investors a Strategic Analysis and Management Proposal that outlines the investment opportunity and to help the investor understand and assess the risk and return associated with it. We are very transparent in these analyses so our investors know who we are and what value we can provide. We walk them through our process workflows from preconstruction to lease up to stabilization. We also outline our tenant screening criteria to help the investor understand how we minimize tenant risk to protect their investment.
The remaining section of the report consists of four key analyses straight from the CCIM handbook: (1) Market & Competitive Analysis, (2) Financial Analysis, (3) Location & Site Analysis, and (4) Political & Legal Analysis. Each of these analyses is important and will help you not only understand how viable the project is, but also assess how competent and experienced your property management company is as well. Make sure the property manager not only understands your market and demographics, but the pro forma financial performance as well. They should be able to tell you how many potential tenants are in the area of impact surrounding your project, what the median income is, size of units, unit mix, interior finishes, and amenities future residents desire. They should also be able to analyze the revenue and cost per door and build out a pro forma so you can understand your projected cap rate, $/$ rate of return, net present value, and IRR. If your property manager cannot provide you this value, you should not proceed until you have partnered with the right property manager who has this level of experience and specialized expertise.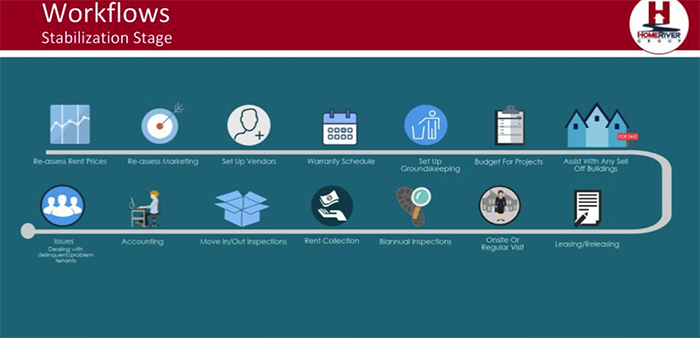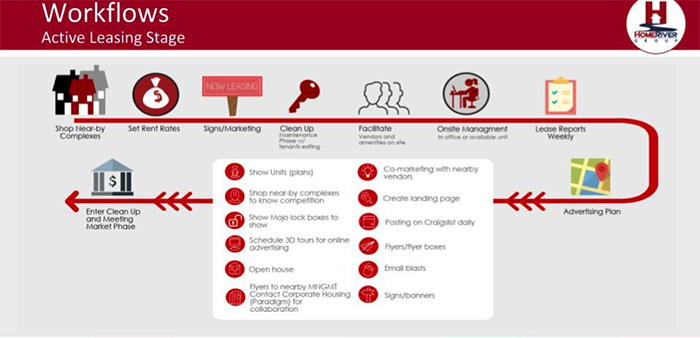 We've implemented this exact "Built to Rent" process multiple times. And time and time again, we've found the key to success lies in assembling the right deal team. At HomeRiver Group we believe the "Build to Rent" concept is an exciting investment model and the combined knowledge, experience and instincts of a well chosen team will lead you to a profitable and rewarding investment outcome.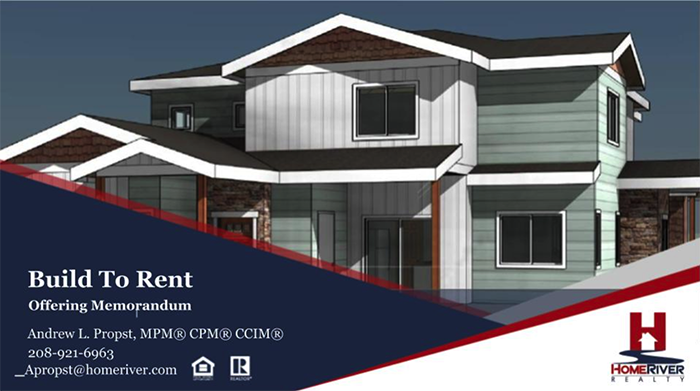 Author
Andrew L. Propst
MPM® CPM® CCIM®