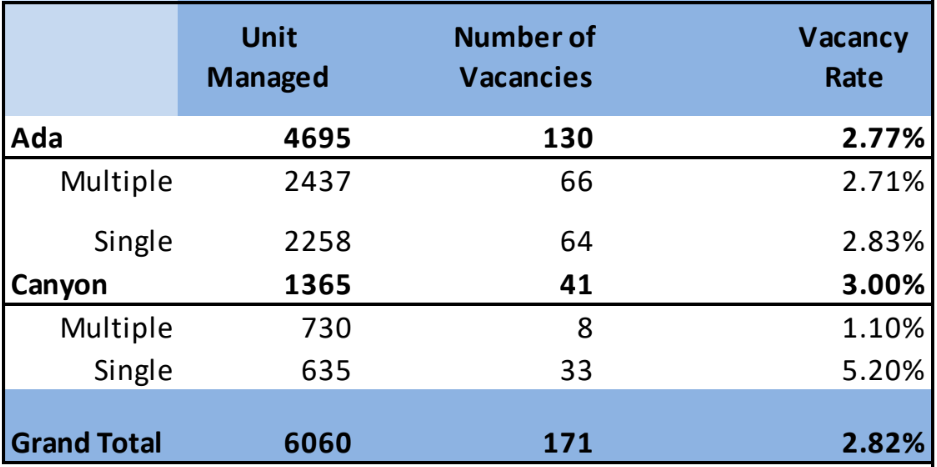 Data from a total of 22 property management companies were included in the survey results, which accounted for a total of 6,060 homes: 2,893 single-family and 3,167 multi-family.
The data collected indicates that the trends in Ada & Canyon county vacancy rates increased .99% from 1.83% in the fourth quarter of 2019 to 2.82% in the first quarter of 2020. Ada County increased 1.22% and Canyon County increased .47% this first quarter of the year. The slight increase in vacancies overall occurred in Canyon County dwellings.

Ada County single family marketed rental rates saw the greatest change by increasing monthly rent by $147 per unit. Multi-family units in Ada County also decreased by an average of $35 per month per unit in the first quarter of 2020. The overall marketed rent per unit increased by $155 per month in Ada County making the average marketed rent rate $1565 per month.

In Canyon County rental rates were marketed at an increased overall monthly rate of $19 putting the average at $1101. Multi-family homes had the largest decrease in marketed monthly rents by $91per unit and single-family units decreased by $53 per unit. Although units are dropping in price in Canyon County the market is displaying more availability in large homes with 4 bedrooms or more, over previous quarters. Overall vacancy rates have decreased by .52% from 1st.
See the full report here
Author
System